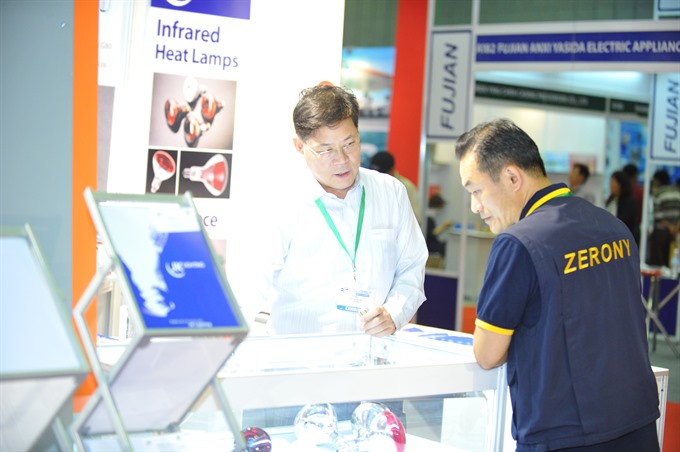 A booth at the previous Việt Nam Expo in HCM City. — VNS Photo
HÀ NỘI — The 15th Việt Nam Expo 2017 will take place in HCM City's Sài Gòn Exhibition and Convention Centre from December 6 to 9. It is expected to be a landmark event for local and international businesses to exchange trade and investment opportunities.
"The forthcoming exhibition, the largest ever of its kind, will comprise 800 pavilions of 750 companies from 16 countries and territories such as India, Taiwan, Germany and South Korea, as well as Indonesia, Malaysia, America and mainland China," the event's organiser, the Việt Nam National Trade Fair and Advertising Co, said in a statement.
On display will be electronics, electrics, tech devices and equipment and accessories, as well as manufacturing machines, construction material, tools and hand tools, in addition to interior and outdoor decorations, food, beverages and cosmetics.
A series of conferences and programmes will be held on the sidelines of the four-day event, including the Việt Nam-China mechanical engineering exchange programme and a seminar on economic, trade and investment co-operation in China's three provinces of Beijing, Tianjin and Hebei on December 6. A dialogue discussing infrastructure quality in Asia and a workshop on opportunities and challenges for Việt Nam's supporting industries in the context of the Industrial Revolution 4.0 will be held on December 7.
A training programme on techniques and processes for developing customer-oriented products in the context of global competition on December 8 will be also held.
The previous event in HCM City attracted the participation of 520 businesses and over 11,600 visitors. — VNS

Read more at http://vietnamnews.vn/bizhub/417756/viet-nam-expo-to-begin-on-december-6.html#bqJgBcYifG83rLcW.99